Just as fashion trends come and go, so do home design trends. The fashion world has (for the moment) bid adieu to bell bottom pants, like the housing industry has said goodbye to polished brass door knobs, trim, and other home fixtures. Then came satin/brushed nickel and oil rubbed bronze. So what is next on the housing trend horizon? It seems as though gold fixtures and finishes are slowly making a comeback. You will see a wide variety with this trend, from true metallic gold to the more muted brushed gold and brushed brass. Amy Anderson of Ask Amy Interior Design is seeing this trend first hand:

"A
s design follows the fashion industry, trends for modern furnishings are reflecting the gold metallics seen on the fashion runways. The jet set collection from Bernhardt Furniture is a great example of what buyers will be seeing furniture industries."
The gold trend is easier to find in home décor and accessories. For faucets, fixtures, shower enclosures, and trim, this trend is still new and tends to be more expensive. If you crack open a Restoration Hardware catalog, you will see some examples of the brushed brass/ gold faucet and bathroom trend.
In the interest of full disclosure, I just remodeled my bathroom, and used marble and chrome for a more vintage feel. The majority of new home construction builders are still showcasing chrome and oil rubbed bronze fixtures in the greater Charlotte area, but are just starting to implement gold accessories in their models. We will have to see if the trend will catch on locally or if it will be relegated to home accessories.
Need home staging or full home design and decoration services? Contact professional designer Amy Alexander at askamyinteriordesign.com.
Have any questions about Fort Mill, SC or the Charlotte, NC area, or interested in buying or selling a home? Call Katharine McFalls with RE/MAX Metro Realty at 704-651-0787 or [email protected]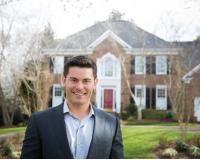 I'm a lifetime resident of South Charlotte and currently reside in the Berkeley neighborhood off Ballantyne Commons & Providence Roads. I pride myself on fast communication and providing the abso....