New Waterfront community in Rock Hill SC – Riverwalk

Riverwalk is a great community in Rock Hill, SC less than 20 minutes from Charlotte located south of Lake Wylie off of the Catawba River. The Riverwalk community is for all lifestyles and is affordable waterfront living. Three builders, three communities all intertwined to one. There are plans for Single Family Homes, Townhomes and Apartment living. The three builders are Evans Coghill whose plans allow for your customization, Saussy Burbank who spot lights their Porch Front community feel, and Chesmar Homes who also has porch front and master down plans. All three builders offer upscale features like granite, tile, gourmet kitchens, stainless steel appliances and much more. Home prices range from the mid $200's to the upper $300's
The Riverwalk Community will soon open their Town Center, which will house restaurants, retail shops, courtyards, and cycle-friendly streets. The community will also feature its own mountain bike trails, BMX track, Cyclcross and much more.
Sounds too active for you……….. NO PROBLEM. You can unwind and enjoy the other amenities Riverwalk has to offer. Listen to live music along the Terrace Park, take a leisurely walk on the nature trails or float your time away on a canoe. You'll be able to canoe or kayak on the Catawba River, walk the beautiful nature trails, play on the athletic fields, dine, shop, or attend concerts along Terrace Park.
There are inventory homes currently available in the Riverwalk community. These are homes we would consider to be MOVE_IN ready homes, and some include Refrigerator, Washer, Dryer and Blinds. These are all items that sometimes homebuyers might forget to budget for in their calculations. The homes in Riverwalk are high efficiency homes which also allows for more money in the budget.
There are many steps to purchasing a home, whether it be a new home or resale home, so be sure not to do it alone. Consult a professional, a realtor. We can assist in guiding and educating you through the entire process. We act as an advocate for you. Yes, for you and with you. Call today for an appointment and I would be happen to walk you thru the process of what are the steps to purchasing a home. For more information on the community or the area you can contract Fran Lucci at 704-714-6644 or by email at
[email protected]
Click here for all the results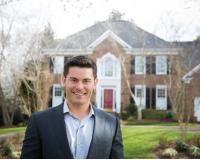 I'm a lifetime resident of South Charlotte and currently reside in the Berkeley neighborhood off Ballantyne Commons & Providence Roads. I pride myself on fast communication and providing the abso....