The holidays have come and gone, you rang in the new year, played in the snow, (or lack there of), and now finally, you are ready for spring. After the cold, dreary winter, you prep for spring cleaning, open your blinds, and realize that your home is stuck in a rut. You decide that it's time for a change. Your house is ready for a makeover.
But, where to start?
First, pick a room. Finally ready to open up your kitchen? What about your bathroom, are you still living with a vanity that is as tall as your hips and a sink in the shape of a sea shell? According to Realty Times, kitchens and bathrooms are where it's at! Robbie Watson, a superintendent for Charlotte's Knight Residential Group, says that most of the remodels they do include these two rooms. Most popular among his clients right now is Carrera Marble counter tops and subway tile for kitchen/bathroom backsplashes, as well as bathroom showers. Robbie says a new trend he is seeing is penny tile, (as seen here, on houzz.com) being used on bathroom floors, as well as for accents on backsplashes.
Do you have a living room or den that needs some pizzaz? Alexa Fiander, Zillow's home improvement blogger, tells us that accent walls, with prints, are all the rage this year. Wall paper is making a come back y'all! She also tells us to ditch our chevron prints, and matching furniture. Are you a "do it yourself'er? Maybe a trip to an antique or consignment store is in order to find a few new peices that will fit just right, in that ecletic "nothing matches but still looks awesome" way. HGTV also gives us some really great tips on Trying a new trend in 2015.
KRG's Robbie has also said that building outdoor living spaces has become another popular addition for their clients. Since we are in the south we understand why covered patios and pergolas are some of their most common requests. Most are complete with outdoor fireplaces and built in grills, for those cool evenings that we love so much. Another fun trend I found is the substitution for a man cave, a Bar Shed. COOL!! Who wouldn't want one of these?
Whether you are interested in doing a full kitchen or bath remodel, or just a few little changes, there's something out there for everyone. Happy decorating!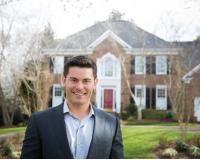 I'm a lifetime resident of South Charlotte and currently reside in the Berkeley neighborhood off Ballantyne Commons & Providence Roads. I pride myself on fast communication and providing the abso....